also called Ubuntu mbook remix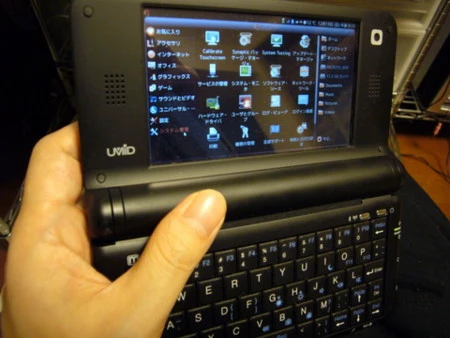 Ubuntu 9.04 Netbook Remix Live DVD for UMID mbook M1
Download ubuntu-ja-9.04-mbook-m1-20091212-1932.iso (838MB)

Default language is changed to Japanese
Added ubuntu-desktop-ja package
Download ubuntu-9.04-mbook-m1-20091210-2318.iso (748MB)

Fixed installer errors (/target/var/log/apt/)
Download ubuntu-9.04-mbook-m1-20091209-2349.iso (737MB)?
Initial version
English
Based on Ubuntu 9.04 Netbook Remix
Kernel 2.6.28-17-generic
Graphics works
Touch panel works

To calibrate the touch panel, click "Calibrate Touchscreen" icon in Administration menu
Installed eGalaxTouch driver

Wireless LAN works

To configure network settings, use gnome-network-manager
Original libertas driver doesn't work with iwconfig command
Built drivers from linux-wireless snapshot source code with a workaround patch (Note that it's just workaround to avoid hung-up, not fixed the issue)

Original Bluetooth driver works
Sound works (however unstable)

Added some modifications in config files

gnome-power-manager

Changed default setting values because the display black out in battery mode

All modifications for mbook-M1 are in /usr/src/mbook
Please comment? if you find any problems
Enjoy!
How to create Live USB from ISO file
See here:
InstallationFromUSBStick - Copy files to USB stick